by : Blogging-secret.com

Last 2 weeks ago, when I want to sign up ClickBank affiliate program, I found that there is no any selection for country of Malaysia during the registration. After that, I have contacted ClickBank to clarify this matter, and I was told they didn't allow Malaysia to participate their program at this moment.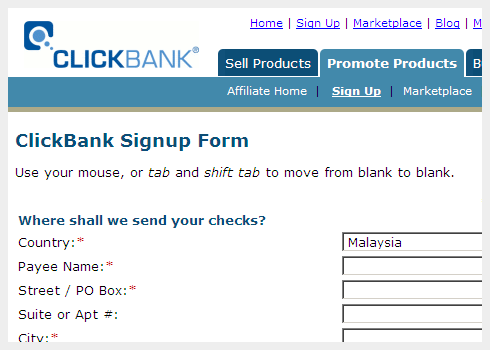 Recently, I get to know ClickBank affiliate program now welcome Malaysian. If you are very keen to join ClickBank affiliate program, this is a good time for you to enter. Of course, with immediate action, I quickly clicked to ClickBank.com and signed up their affiliate program. After that, I have tried to search the ClickBank marketplace, I found that there are several profitable affiliate products that suit to promote on my blog and I will going to promote it later on.
If you are still new to ClickBank affiliate program, you can read the useful post titled Beginners Affiliate Marketing Guide with ClickBank which is posted by my dearest friend, Darly from Earn Money Blogging.